Back to all posts
Posted on
Westglen Available for Rentals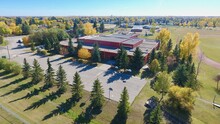 Westglen is now available for rentals - use our facilities for your next event, sports or meeting!  The gym, classrooms and library are available for rent by the hour or daily.  If you are a local group (from the Didsbury area) we even have reduced rates!
Please see our "Rental Agreement for Local Groups" or "Rental Agreement for Non-Local Groups" for details.  
For further inquiries, please email tbedard@cesd73.ca or call 403-335-8700.